Painting Prices in Passaic, New Jersey
Are you wondering how much painting services in Passaic, New Jersey cost? Pricing varies, of course, but if you're looking for a solid painting contractor in Passaic at a price that is fair, you've just found them! At Everlast Construction & Painting LLC, we like to assess the scope of the job at hand before quoting a price. We believe every painting job is unique, just as every surface is unique. Whether you want a price to paint the exterior of your Passaic home or just touch up the trim and front door, we'll assess the work requested and readily give you our best price.
We treat every painting or staining job as if our reputation depends on it (because we know that it does). The pride we take in our work shows in everything we do, but giving all our customers value for money is very important as well. While you might be able to find a cheaper painting contractor in Passaic, pricing generally reflects skill level and quality. We know you won't find a higher quality Passaic painter with the great pricing Everlast Construction & Painting LLC can deliver!
---
Call for a Free Quote
---
Our Passaic Painting Pricing Process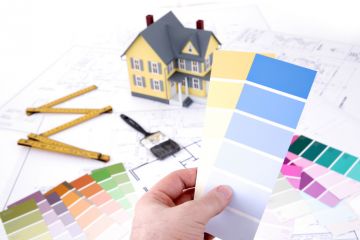 Rather than giving our customers a list of set prices, we follow a consistent and fair pricing process. After an initial phone discussion, we'll schedule a convenient time to visit you in person, whether at your home, office or wherever the work will take place. We'll listen carefully to your painting requirements. We'll take time to consider both your space, the materials needed and any other factors that may impact pricing the job.
Once you're happy that we have considered all aspects, we'll then calculate the cost to paint your Passaic home or office building. We'll provide you with a free written estimate as soon as we have it, although we don't like to rush such an important task.
The quote you receive will be based on a range of factors, including the required timescale, the nature of the work and the caliber materials you are looking for. For example, if you wish to change the color of your home's exterior, in Passaic the cost will be a bit higher than if you wish to stay close to the current color. Wherever possible, we will work within the confines of your budget, but we'll always be honest and upfront with prices.
We will guarantee this: Everlast Construction & Painting LLC always strives to complete work on time and within the established budget. Once we've given you a written estimate, you can take it to the bank!
The Best Painting Value in Passaic
Our experienced Passaic painting contractors are not only highly skilled and conscientious, but they provide painting services in Passaic at a great value. Over the years, we've successfully completed just about every imaginable type of painting project. There is no painting job we can't take on successfully.
While we don't claim to be the cheapest painting service in Passaic, we honestly believe we're the best. Call (973) 834-8722 and you will be in touch with a team that values attention to detail and building trust. We never cut corners to save time or money. Our reputation (and your home) is simply too important to us.
If you are looking for a Passaic painter for a cost-effective and high-quality job, call (973) 834-8722 for the best painting value in the area.
---
Call for FREE Painting Prices Quote
---
WHAT CUSTOMERS ARE SAYING:
5★★★★★ - "Jerry and his team did a great job. Very reliable, neat, and friendly. The job was done quickly and professionally!"

Renee

2022-10-18

5★★★★★ - "Jerry is a great guy to work with. Prompt courteous and very reasonable price-wise. Did the job well on time and excellent work. Highly recommended."

Pheroze M., Painting in Teaneck, NJ

2022-08-10

5★★★★★ - "Jerry and the Everlast team were recommended to me and have now done two large decorating and roofing jobs for me. The results have always been incredible and very high quality. Now I share their business card with all of my friends and I will continue to keep using and recommending them."

Ben E., General Construction in Fort Lee, NJ

2022-07-13

5★★★★★ - "Jerry was very helpful in explaining what should be done and was very receptive to what I wanted. He was able to do just what I wanted. Very happy with the results of the painting. He gave me back new home."

Catherine M., Painting in Paterson, NJ

2022-07-13

5★★★★★ - "We couldn't be more pleased with the job Jerry and his team did for us. They were meticulous, courteous, and finished the work ahead of schedule. They cleaned up everything & helped put back furniture & wall decor. We highly recommend them."

Kathleen A., Interior Painting in Clifton, NJ

2022-01-24

5★★★★★ - "Jerry and his crew did a very good job painting almost the entire interior of the home. He committed to getting the work done on a tight schedule and even finished ahead of schedule. He communicated clearly with me on any questions or issues that came up. Jerry planned for and worked to fix some real problem areas, which I really appreciated. He was professional and seemed to treat his workers with kindness and respect. I would recommend Jerry and Everlast Construction & Painting to other potential customers. He may not be the cheapest, but he is reliable and does high-quality work."

Andrew S., Interior Painting in Wayne, NJ

2022-01-19

5★★★★★ - "We were very pleased with the profession and quality from Everlast Construction and Painting. Working with Jerry was a pleasure. He was not only knowledgeable, ontime, but very kind. He made the process of painting the entire inside of our home a breeze. Jerry also painted my kitchen cabinets and some dry wall repairs. Thanks Everlast Construction and Pianting! We highly recommend this company to anybody."

Haxhie G., Interior Painting in Fair Lawn, NJ

2022-01-19

5★★★★★ - "If your looking for a quick, professional, and high quality work, call Everlast Construction and Painting! Jerry was very professional with his work. They fixed water damage on the ceiling, they stained my deck, and also painted several rooms and the finished products was outstanding. I'll use this company again for my future projects. I highly recommend Jerry and his team if you're looking to get any painting and construction done."

Frank J., General Construction in East Orange, NJ

2022-01-19

5★★★★★ - "Jerry and his team did a great job, quickly and with high quality. Our two-story foyer and family room and several other rooms were painted in 4 days. I strongly recommend this company to anyone who needs painting or construction work done."

Sergey M, Interior Painting in Clifton, NJ

2022-01-19

5★★★★★ - "They did an excellent job. Painted everything inside the house, walls, ceiling, and all the closets. Clean-up was excellent. I would definitely recommend him."

Bill C., Interior Painting in Paterson, NJ

2022-01-19

5★★★★★ - "Excellent company. Jerry and his crew are very respectful workers and they did a fantastic job. Also great prices. I would highly recommend them. Also works with your budget"

Katheryn H., General Construction in Clifton, NJ

2022-01-19

5★★★★★ - "highly recommend Jerry and his crew. Happy to recommend Everlast Construction. They did a great job in my apartment."

Sandy C., General Construction in Belleville, NJ

2022-01-19

5★★★★★ - "Highly recommend them! Hired these professionals for indoor painting of the whole house. They did a great job, finished on time. A pleasure to deal with. Will hire them for driveway sealing very soon."

Tudor B., Painting in Paterson, NJ

2022-01-19

5★★★★★ - "I contacted Jerry months ago to get a quote on painting a home that I was purchasing. As soon as we closed on the home Jerry and his team came in and painted my entire house in three days. They did an excellent job and my home looks great! I would highly recommend this company."

Theresa P., Painting in East Orange, NJ

2022-01-19

5★★★★★ - "I just had my siding and windows replaced and my whole house painted by Everlast Construction and Painting. I'm very happy with the results since I'm very picky when it comes to my house. Jerry was very professional and timely, their service I would highly recommend to anyone."

Elona M., Vinyl Windows in Paterson, NJ

2022-01-19

5★★★★★ - "I contacted Jerry 6 months ago to remodel my bathroom for me and I cant express how pleased I am with his work. My wife is very picky but Jerry knew exactly what she wanted and he finished the bathroom ahead of schedule! Since, Jerry has replaced some aging windows and has painted numerous rooms. An honest businessman with a great work ethic. I would highly reccomend Jerry and Everlast Construction & Painting."

Kalgstol, Bathroom Remodeling in Clifton, NJ

2022-01-19

5★★★★★ - "They built me a large deck and they got it done under my budget plus on time and painted the whole inside of my house and it came out beautiful I highly recommend this company"

Ted B., Light Carpentry in East Orange, NJ

2022-01-19

5★★★★★ - "Very great company. They do it all. I would recommend this to everyone."

Luis R., General Construction in Paterson, NJ

2022-01-19

5★★★★★ - "My experience with Everlast was excellent. I would recommend them to all"

Copy & Paste, Painting in Clifton, NJ

2022-01-19

5★★★★★ - "What a pleasure to do business with such a professional company! I needed a price to clean and paint my deck and within 24 hours Jerry was at my home and gave me the very reasonable estimate. I had the work done by his company have never been more pleased with an outcome! It is a beautiful job and I will continue to use Jerry and his company in the future."

Teddy S., Deck Staining in Clifton, NJ

2021-08-13

5★★★★★ - "Jerry and the team are thorough, skilled, and customer-oriented. Their attention to detail is impressive and it shows in the final product. We would highly recommend this company to anyone who has a home project to be done."

Mona D., General Construction in Clifton, NJ

2021-08-13

5★★★★★ - "Jerry and his crew did an excellent job painting my uppers and lower cabinets doors"

Frankie L., Cabinet Painting in Clifton, NJ

2021-05-12

5★★★★★ - "Jerry and his crew were great. They were fairly priced, arrived when they said they would, and were responsive throughout the process. They finished the job early without sacrificing quality and left our house as clean as they found it. We are incredibly pleased with the final result and would highly recommend Everlast. Thank you!"

Rick O., General Construction in Riverdale, NJ

2021-05-12

5★★★★★ - "They had to redo plaster walls from water damage plus window sills in living room..dine room and 1 bedroom plus inside of closet Very happy with the job."

Kathy P., Structural Restoration in Clifton, NJ

2021-05-12

5★★★★★ - "I came across Jerry by pure coincidence, but I certainly didn't regret it. Everything went as smooth as it could be. Jerry is very professional and above all, very punctual. He showed up, as promised, for a free estimate, he gave me the price and advised on the colors I should use, needless to say, I took his advice on those :).He came with his team, 2 days later to do the job which was meticulous. The colors are beautiful, and my apartment looks absolutely beautiful. I am happy I hired him and for sure this will not be the last time I will seek his services."

Pjereta

2020-12-28

5★★★★★ - "Clean and always on time"

Anonymous

2020-10-19

5★★★★★ - "My wife and I hired Jerry to perform work at my father-in-law's estate to help us CCO Inspection. The work consisted of tearing down 2 big wood sheds, patio enclosure, a concrete fire pit, rebuild a retaining wall, electrical work, converting an illegal bathroom back into a closet, etc. His contract price was excellent and had the work done in a week as he promised. He does things the right way, by the book and by the code. This was one of the best hires I've ever made and will hire him again for future projects. Jerry is a great guy, great to talk to and very friendly. He does what he says he is going to do, period. Thank you, Jerry!"

Terry Jetton

2020-02-25

5★★★★★ - "Jerry is an excellent communicator and is punctual which is very hard to find with contractor sometimes. Our house needed a lot of work, and Jerry was definitely up for the task. He spackled and painted our walls and made the house look brand new, while being affordable.he is efficient, does great work, and keeps the house tidy as well. Definitely would recommend Everlast Construction and Painting.
Thank you, Jerry!"

Bledi in Garfield, NJ

2019-04-09

5★★★★★ - "We've been working with Everlast for 18 months. Jerry does beautiful work and is always professional."

Diane

2019-03-20

5★★★★★ - "I bought a house from the auction and I was looking to hire a contractor for my interior and exterior remodeling and I was so pleased to hire Everlast Construction and Painting. Jerry and his crew were honest and friendly. They were showing up always on time,very skilled and professional. I would highly recommend Everlast Construction and Painting."

Edi in Lodi, NJ

2018-03-01
---
Call for FREE Painting Prices Quote
---